Simply put: it is the best beautifying treatment that you can present your hair with.
Hair oiling – it does not sound impressive, does it? You probably imagine ugly hair flowing with some cooking oil. There is a kernel of truth: you apply a natural oil to hair and scalp but you do not use a food oil and apply only small quantities of a product.
You use natural oils for the treatment – substances extracted from seeds, fruit and nuts rich in nutrients. Oils are often extracted from some exotic plants grown in tropical and untouched regions of the world. Sometimes, tropical oil works as a carrier oil that rejuvenating and regenerating herbs and flowers are soaked in. This is how so-called macerations are made – powerful oils delivering intensified effects.
Natural oils work great when you add them to all kinds of cosmetics but they are most powerful in their pure form. The most popular oils are amla oil, argan oil, coconut oil, jojoba oil, macadamia oil and shea oil (in form of butter).
There are a few things that decide about the unusual power of natural oils
Firstly, they abound in lots of saturated, monounsaturated and polyunsaturated fatty acids. Every oil has its individual proportion of acids, which decides about its uniqueness.
Secondly, oils conceal the power of vitamins and micronutrients that we give our hair and scalp during hair oil treatment.
Thirdly, they are full of phytosterols – plant sterols – that have a beneficial influence on skin and hair as they stimulate collagen synthesis and reduce dissolution of elastin. It results in resilient hair that keeps young.
Fourthly, microscopic particles of oils have different sizes so we can precisely match them to our hair structure, or porosity. (More on hair porosity further in the article.)
How to…? Hair Oiling Methods
You can oil your hair using several methods. The most effective and popular method involves leaving an oil in as long as possible so the oil can reveal its power. Oils nourish hair on its surface and inside the stem. What is most important, they also condition the scalp and reinforce hair bulbs. As a result, your hair is repaired in its most important part. Hair bulb is like a heart of your hair – it works as a factory producing hair. If it lacks nutrients, hair gets weaker. An extremely weak bulb cannot keep hair so it simply falls out.
Regular oiling that involves hair, scalp and bulbs is the best repairing treatment. Not only does it beautify and repair damage inside the hair but also strengthens hair from roots to ends. Intensive oiling consists of applying an oil to dry or damp hair and scalp, leaving the oil in for several hours (or even the whole night), washing it off and shampooing. You should do the treatment at least once a week to deliver a necessary dose of vitamins, fatty acids and valuable minerals to the internal hair structure. Oils go beyond all masks and conditioners when it comes to hair repair.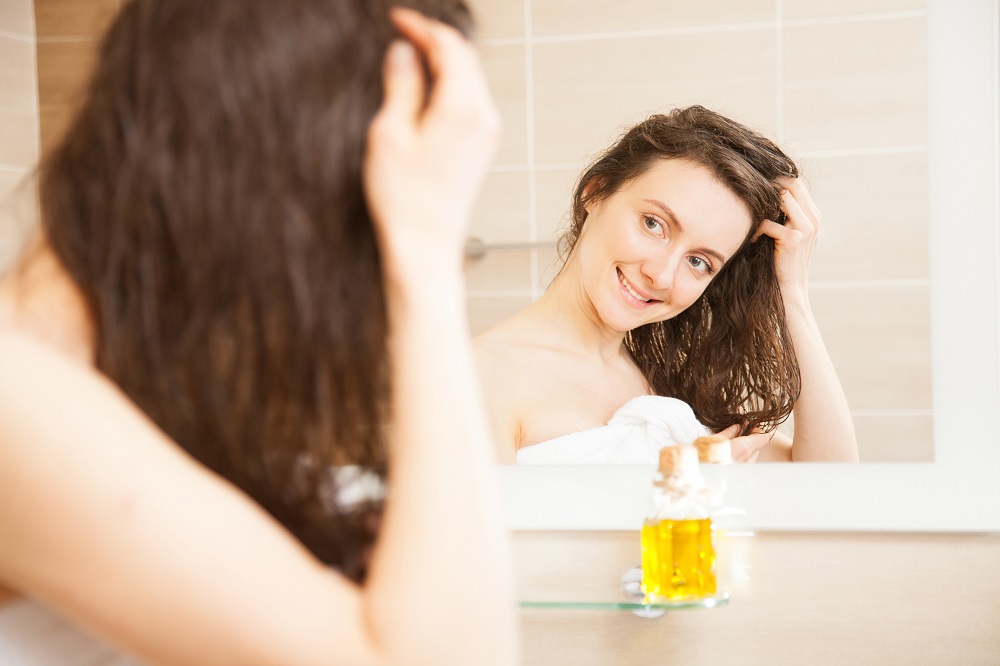 Other Hair Oiling Methods Popular Among Women:
Dry hair oiling – an oil stays on hair and scalp for a few hours. Target: in-depth hair repair, stronger bulbs, preventing hair loss.
Wet hair oiling 

– applying an oil to damp hair and scalp; better absorption. Target: intensive repair and reinforcing hair inside.

Oiling with a conditioner

 – adding a few drops of an oil to a hair conditioner and applying the mixture to hair for intensified effects. Target: nourishing and moisturising hair, enriching other hair products.

Oiling after washing

 – applying a bit of a natural oil to hair, avoiding the scalp. Leave the oil and remember the amount you apply must be minimal, not to weigh hair down. Target: protecting hair from heat, conditioning hair.

Oiling dry hair after washing

 – applying an oil to hair after the blow-dry routine. Depending on the condition of your hair, you apply 2 or more drops, to hair ends only! Target: boosting shine, nourishing, smoothing and protecting.
Effective Hair Oiling – Tips&Tricks
You must know about a few valuable tips so you can make the best out of hair oil treatment.
ALWAYS MATCH AN OIL TO YOUR HAIR POROSITY
If you pick an unsuitable oil, it can weigh your hair down or trigger frizz. Read on to learn about porosity and how to choose an oil good for your porosity type.
DO NOT APPLY AN OIL TO VERY GREASY HAIR
If you do, you will overburden a hair bulb that is already weighed down with sebum. As a result, hair can start falling out from follicles. Applying an oil to washed hair is a good solution.
WASH OFF A HAIR SPRAY, MOUSSE AND OTHER STYLING PRODUCTS…
… that settle on hair and could prevent oils from penetrating.
SHOWER CAP, COMB AND OTHER TOOLS
If you apply an oil and put on a shower cap and towel, the effect will be intensified. Oils get extra powers when they stay under a warm compress.
DO NOT APPLY TOO MUCH OF AN OIL
Too much of an oil will neither bring better nourishment nor make the oil easier to wash off. There are oils that you easily wash away but there are also the ones that require washing hair twice.
MASSAGE
After applying an oil to the scalp, it is a good idea to do a massage. It increases blood flow and activate hair bulbs.
WASH AN OIL OFF WITHOUT SLS, SLES
Oils come from nature, they are free from synthetic, comedogenic and irritative substances. Washing them off with SLS shampoos would make no sense. It would weaken the results of the treatment instead.
CLEANSE THE SCALP
Use a purifying shampoo at least once a month. Such a product is amazing for your hair and scalp because it removes toxins, product build-up and leftovers of too large quantities of oils. The purifying shampoo is also a great intro to oiling because it enhances the absorption of cosmetics. As a result, your hair absorbs oils easily and quickly.